Partick Thistle

Ground Name: Firhill Stadium
Capacity: 13,079 (10,887 seated)
Address:
80 Firhill Road, Glasgow, G20 7AL
Telephone No: 0141 579 1971
Fax No: 0141 945 1525
Pitch Size: 111 x 76 yards
Club Nickname: The Jags
Year Ground Opened: 1909
Undersoil Heating: Yes
Home Kit Colours:
Red, Yellow & Black
Official Web Site:
www.ptfc.co.uk
Unofficial Web Sites:
Over Land & Sea
One Team In Glasgow
Jags Forum


What's The Ground Like?
Future Developments
The North & Jackie Husband Stands (photo)
What Is It Like For Visiting Supporters?
Where To Drink?
Main & North Stands (photo)
How To Get There By Car & Where To Park
By Train/Underground
Local Rivals
Admission Prices
Layout Of The Ground
Programme Price
Fixtures 2008-2009
Record & Average Attendance
Hotel Accommodation
Feedback

Return To The Main Menu


What's The Ground Like?
On one side of the ground is the impressive looking, Jackie Husband Stand. This is a large, covered single tiered stand. Opposite is the older Main Stand, which has raised seating above pitch level. This stand is covered and has a fair few supporting pillars which may obstruct your view. It was originally built in 1927. The stand looks a little odd, as the lower end has been given over to what look like administrative offices. Apart from the bigger games, this stand normally remains closed.

At the North End of the ground is the new North Stand, which replaced a former open terrace. This all seated covered stand, originally only ran for around 2/3rds of the width of the pitch, but has been extended during the Summer of 2003, so that it now completely fills that end of the ground. Opposite is the South End, which is now unused for spectators, being comprised of a grassy bank. It was originally a semi circular open terrace, but this was demolished in anticipation of building a new stand. However, planning permission for the new stand has not yet been forthcoming, so no further progress has been made.

Interestingly, Firhill is the closest League Football Ground to Glasgow City Centre.
Future Developments
The Club have plans to re-develop the South End of the stadium. This would include a 1,000 all seater stand, plus residential and office accommodation. However the Club have yet to successfully obtain planning permission to go ahead with this development.
What Is It Like For Visiting Supporters?
Away Fans are primarily housed in the new North Stand at one side of the pitch, where around 2,000 fans can be accommodated. The view of the playing action and the facilities on offer are pretty good. The good thing about this Stand, is that a relatively few away supporters can make some noise from it, contributing to a normally good atmosphere within the ground. If demand requires it, then the North part of the older Main Stand, can also be allocated to away fans. Otherwise this classic looking stand remains unused for spectators.

Firhill holds a somewhat illustrious personal record for myself. Having had a few beers before the game, I unfortunately needed to find the gents half way through the first half. Just as I got in there, up went a roar from inside the ground, Partick had scored. Then on returning, just as I reached the bottom of the stairs, going back up into the stand. Partick scored again! So this is still my personal record of missing two goals with one pee! Of course, I took a fair bit of ribbing from the surrounding supporters as I returned to my seat. In a dull second half, there were plenty of suggestions from the fans around me, that perhaps I should work my goal magic, by going to the gents again!

Firhill is the only ground that I have come across on my extensive travels, that sells Pot Noodles from its refreshment areas (apart from pies etc..).
Where To Drink?
Jim McFarlane recommends the Munn's Vaults on Maryhill Road. This pub is only around a five minute walk from the entrance to the away end and has a good mix of home and away support. Further down Maryhill Road towards the city centre, there is over on the right of the road the Woodside Inn, which also welcomes away fans.
How To Get There By Car & Where To Park
From The West:
Leave the M8 at Junction 17 and follow the A81, Maryhill Road towards Maryhill. Turn right into Firhill Road for the ground.

From The East:
Leave the M8 at Junction 16 and follow the A81, Maryhill Road towards Maryhill. Turn right into Firhill Road for the ground.

Street Parking (although don't be surprised if you are approached by a number kids wanting to 'mind your car mister').

For a map showing the location of the ground click here (to take you to the Street Map website).
By Train/Underground
Maryhill Station is the closest train station to the ground, but it is still a fair walk away (20-25 minutes). It is served by trains from Glasgow Queens Street, but it may be best instead to use the Underground.

By Underground:
Richard Jones informs me; 'you can alight at two or three underground stations. Probably the easiest, is to get off at St. Georges Cross, and just head North up Maryhill Road until you see the stadium (in Firhill road just off Maryhill road). It should take around 10-15 minutes to walk. Another option is to get off at Kelvinbridge (this is slightly closer to Firhill than St. Georges Cross). Go up the stairs/escalators to Great Western Road, cross Great Western Road and turn to your right. Walk only a few metres until you come to North Woodside Road on your left. Walk down that road until you come to Maryhill Road. Turn left along Maryhill Road to get to the ground.

Alan McAulay adds, 'If you are looking to have a pre-match drink in Byres Road, then alight at Hillhead Underground Station. Most of the pubs are on the left hand side when you exit the station, although the very studenty Curlers Bar is right next to it. A better bet maybe Tennents Bar, which is further down as it has more of a 'footy -friendly' atmosphere. To then get to the ground from Byres Road turn right out of Hillhead Station and go straight along past the library and Fopp records, then turn right again. Kelvinbridge station is on your right hand side, but below street level, so keep an eye out for it' then directions are as above.
Local Rivals
Clyde, Airdrie, St Mirren
Admission Prices
All parts of the ground (Seating):
Adults £15
Concessions £10
Under 16's Free

Concessions apply to over OAP's, Under 21's and Students in full time education.
Ground Layout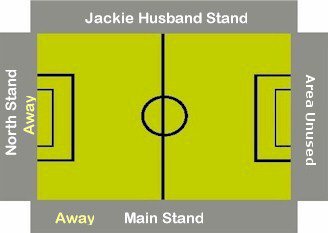 Programme Price
Official Programme £2.
Fixtures 2008-2009
For the Partick fixture list click here (to take you to the

BBC Sports

Website).
Record & Average Attendance
Record Attendance:
49,838 v Rangers (1922)

Average Attendance:
2007-2008: 2,609 (Division One)
2006-2007: 2,592 (Division One)
2005-2006: 2,610 (Division Two)
Hotel Accommodation
If you require hotel accommodation in the area then first try a hotel booking service provided

by

Football Hotels who are powered by Activehotels, who specialise in locating accommodation near or within a short travelling distance of the football ground. They also have the added advantage over some other hotel booking services that you pay on departure.

Yes this site will earn a small commission if you book through them, but it will go to help with the running costs of keeping the Guide going. To access their Glasgow page click here.
Feedback
If anything is incorrect or you have something to add, please e-mail me and I'll update the guide.



Return To The Main Menu